SOS MÉDECINS CONSULTATIONS

on-duty GP in the 17th, 19th and the 13th districts of Paris
Is your GP absent? Are you looking for a conventional general practitioner, available in Paris? Contact one of our health centers in Paris. You can book an appointment with one of our doctors as soon as possible.
We can propose consultations with general practitioners and specialists by appointment, during the week and on weekends and public holidays.
SOS Médecins Grand Paris offers you GP consultations classified as sector 1 approved n its two Medical Centres, with GPs and specialists solely by appointment, during the week, at weekends and on public holidays in the 13th and the 19th districts.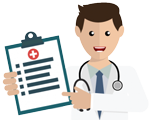 On the day of your appointment, do not forget to bring with you:
Your health insurance card (Carte Vitale)/ Health Insurance Certificate
Your prescriptions
Any additional tests (blood test, X-ray, ultrasound, etc.)
A health record for children
ATTENTION = the following services are not proposed by SOS Médecins:
Prescription renewal
Regular contraceptive prescription
Routine paediatric examination
Gynaecological pregnancy follow-up care
Vaccination
Sports aptitude test or any other medical certificate
All our SOS Médecins GPs ensure a good quality medical care for everyone. Continuity of care, check-ups… We will offer you a right service in order to deal with your requests for general medical procedures.
 GENERAL MEDICAL CONSULTATIONS
SOS MÉDECINS APPROVED SECTOR 1 IN PARIS
SOS MÉDECINS CONSULTATION RATES SECTOR 1 APPROVED
In conformity with the applicable legislation, SOS Médecins receives all patients with Universal Health Coverage (French social security program).