SOS MÉDECINS GRAND PARIS:
Visiting doctor service
24/7
(Paris 75, 92, 93, 94)
SOS MÉDECINS GRAND PARIS:
Visiting doctor service
24/7
(Paris 75, 92, 93, 94)
SOS Médecins offers medical emergency services and unscheduled general medical care 24/7 in Paris, as well as in most of towns of the following departments: Seine-Saint-Denis (93), Hauts-de-Seine (92) and Val-de-Marne (94). SOS Médecins provides general medical, emergency and out-of-hours visits and those for continuity of care, at your home, at your workplace or even if your GP is away.
Our teams advise you from the very reception of your call or online request for a house call and while you are waiting for an emergency doctor arrival.
If you have further questions, please contact us.
SOS MÉDECINS GRAND PARIS :

Appointments
Centre médical Paris 13
85, boulevard du Port Royal
75013 PARIS
Centre médical Paris 17
2, rue Francis Garnier
75017 PARIS
Centre médical Paris 19
128, boulevard MacDonald
75019 PARIS
Opening hours
From onday to friday : from 9 a.m. to 11 p.m.
Saturday : from 1.30 p.m. to 11 p.m.
Sunday and public holidays : from 9 p.m. to 11 p.m.
ARE YOU A PRACTITIONER?

join SOS MÉDECINS Grand Paris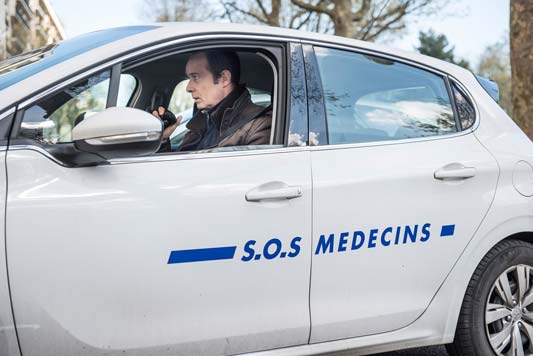 If you like to put your medical skills to work for individuals in the Paris Region, join our team.
We are regularly looking for general practitioners and emergency doctors to provide house calls. As well as teleoperators to handle our patients' requests.
Contact SOS Phlebology and Angiology, for emergency venous or arterial Doppler ultrasound: by appointment Monday to Thursday, from 1:30 p.m. to 6 p.m.
Examinations in case of emergency, on prescription
– Lower and/or upper limbs Venous Echo Doppler
– Lower and/or upper limbs Arterial Doppler ultrasound
– Supra-aortic trunks Arterial Doppler Ultrasound
SOS Phlebology and Angiology is a practice for the emergency ultrasound diagnosis of venous and arterial pathologies. We therefore do not provide treatment or follow-up of chronic varicose and lymphatic disorders.
International Vaccination Centre approved yellow fever
You're going abroad in a few days? Are you looking for an international vaccination centre to carry out all your vaccinations for your stay abroad? Our International Vaccination Centre receives you by appointment from 9a.m. to 7p.m.
Our plus?
SOS Vaccinations team transports you to your destination, in safety, either on departure and return.